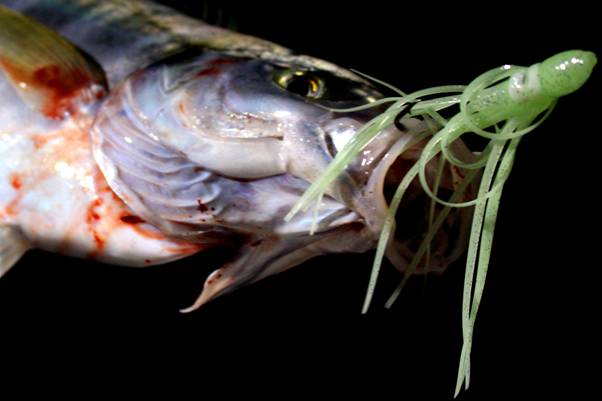 This time of year is perfect for those dusk missions targeting the late summer/early autumn feeding frenzy. Recently we tested the Maxistrike range of 5/0 Squid Flasher and 5/0 Octopus Flasher rigs during a dusk mission in the Hauraki. These rigs are lethal on snapper and trevally with razor sharp hooks and lumo squid skirts in yellow and pink colours.
These flashers attract many different species of fish so your bait will depend on which species you are targeting. Personally I like to buy pilchards and cut them in half. Remember, big baits equals big fish. My second choice is a few fillets of mackerel; it always works a charm and stays on the hook longer when the little fish are having a free feed on your pilchards.
Depending on the current I tend to use 4 ounce to 8 ounce reef sinkers. My theory is that you need enough weight to get the bait to the bottom quickly and then keep the line tight to you can feel the bait. Too lighter sinkers will end up with your bait drifting way out the back of the boat and lots of slack line where you won't be able to feel any bites.
The hooks on the Squid and Octopus flashers are beaked hooks which means you need to strike (lift the rod) quickly to set the hook in the mouth of the fish. It takes a while to learn which bites are the big ones and when the best time is to strike. I like to wait until a heavy bite before striking hard – it's ok to feed the little fish, they will grow big one day.